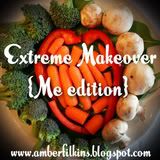 Welcome to the 14th (completed) week of Extreme Makeover: ME Edition hosted by the incredible
Amber Filkins!
Let's weigh-in...
Last week: 208 pounds
This week: 208 pounds
LOST.....0 pounds
The Plan from Week 14:
I was doing awesome...until Monday. My old friend TOM showed up. Generally, I am completely wiped out for two solid days. I just can't function and I crave carbs and sugar. The best way I can describe it is...it's a full moon and I'm a werewolf. My husband knows better than to deny any food or drink I have requested. He just sets it in front of me and backs away slowly. So...the fact that I didn't lose or gain any weight this week is making me really happy because there was coke, a quarter pounder and hostess cupcakes in my diet the last few days. During this time...I also stopped drinking as much water and taking my pills. I've got to find a cure for this. The good news is that I didn't feel as bad as I normally do. I think it's because of the exercise and eating better and the Vitamin D!
The Plan for Week 15:

AM walk/run
Wednesday
Thursday
Friday
Monday
Tuesday

PM Weight Training
Friday
Sunday
Tuesday

Also.
..
Vitamins
Drink 80 oz of water
Plank and sit-ups (Wed, Fri, Sun)
Question of the week!
Share with us how you're feeling about your progress.
I am feeling great about my progress! I did a post on Monday of my 3 month Before and After picture and measurements. Click
HERE
to see it. My clothes are fitting better and I feel strong. Each day that I walk/run...I'm able to run just a little bit farther and I feel sooo good when I get home. The whole day goes so much better when I have taken this time to be
my own best friend
. Some of you have commented on that post and I want to tell you that I love you and your support means more than gold! So...I decided to draw a name from those that commented to win a Starbucks Gift Card! Lucky number 5 (thanks to the random number generator) is
Jen from Harried Mom of Four
! Thanks Jen!
Here is my Inspirational Song of the Week: I can run faster and longer when this song is playing! Seriously! I dare you to try NOT to run while that song is playing.