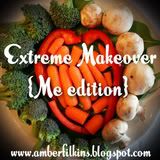 Welcome to the 16th (completed) week of Extreme Makeover: ME Edition hosted by the incredible
Amber Filkins!
Let's weigh-in...
Last week: 207 pounds
This week: 207 pounds
LOST.....0 pound
The Plan from Week 16:
workouts completed:
Thursday~ .48 mi (headache)
Monday AM~2.06 mi
Mon PM~ 1 mi(walk with family)
Wednesday~1.24 (headache)
I didn't lose any weight this week. Something is going on with my body...I can't figure out what it is but I'm getting headaches again. Almost daily. I'm waking up with them and they are lasting most of the day. I have recently started taking a new herb...could be that maybe or hummus overdose. Also,
THIS
could be part of the (weight) problem. I only had half my meal and half my little treat and had the other halves later...but still.
I have been listening to the
Momactive radio show
ever Friday at Noon. Each week they have a guest and
last week it was Sadie Nardini
. She is a master Yogi in New York City! She has a channel on
You Tube
and has a few DVD's out. I WON the Core Strength Vinyasa Yoga: Total Body Transformation and Weight Loss DVD! I can't wait to get started!
Tonight is the BIG NIGHT! I'm going to
Zumba
! My beautiful friend Sara is going with me. We can't wait to try it and I'm sure I'm going to love it. Check back tomorrow so I can tell you all about it.
We are leaving for Milwaukee Wisconsin on Friday. I have no idea if I'll have internet so that I can write a post but will post an update from my iPhone on Wednesday. I just won't be able to link up.
Question of the week: What's been inspiring you??
This is my daughter....we will call her Mallory. (her daddy is a stickler about me using her real name) She is almost 2.5 years old and she is a spitfire! All my life I dreamed about having a daughter but I never dreamed about how amazing life with a sweet girl would be.
This girl...runs everywhere. She has so much energy and loves to jump and dance. We went for a walk to release our butterflies into the wild on Monday and she grabbed my hand and said,
'Run Mommy Run!'
Here we are running with our purses. She agreed to be my running buddy (opps...I'm not buddy...I'm Mally)!
One of my main motivations for doing this is to be able to be active with my kids. I don't want to be that Mom that can't run, play and bike. I can totally see me and Mally running a race together someday.....
****EDITED TO ADD***

It appears that I will be doing ALL the cooking on this vacation. I knew this was going to happen! *connie stomps her feet and pumps her fists in the air* My first thought was...I guess I will need to make my potato salad and watergate salad. But both of those items are not super healthy. My in laws eat A LOT! Please...help me figure out what I can make for side dishes with hamburgers and hot dogs. I want to eat healthy and force them too also.